enamel coated Chinese old fashional white mugs & milk and coffee cups custom
Product Description
enamel coated Chinese old fashional white mugs & milk and coffee cups custom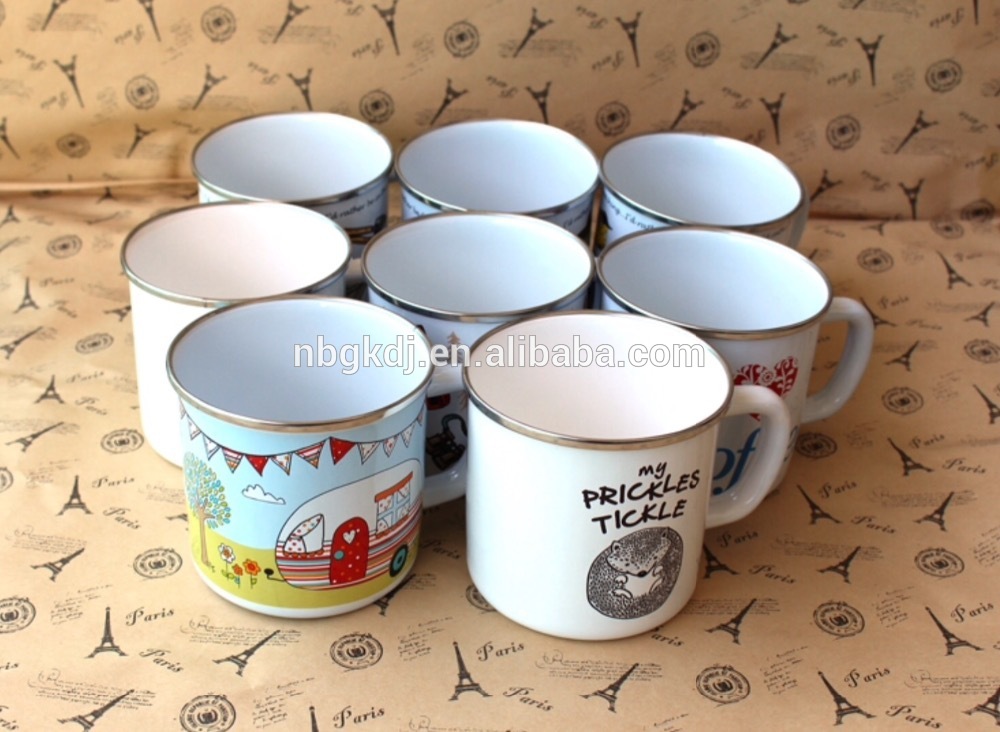 | | | | | | |
| --- | --- | --- | --- | --- | --- |
| ITEM | DXH | SIZE | CTN | G.W/N.W | MEAS |
| 2108F/2109F/2110F | 10.8×10.3 cm | 10 cm | 60 Sets/CTN | 12/11KGS | 52×39×54.8cm |
|   | 8.5×8 cm | 8 cm | 60Sets/CTN | 10/9KGS | 42×27×42cm |
|   |   |   |   |   |   |
Why buy from us?                              
--1. Wholesale,Retail order acceptable.
--2. Mixed order/color acceptable.
--3. Fast delivery time 
--4. High quality
--5. Drop shipping offered.
--6. Payment accept TT/LC
How to order ?                                        
A:Please send us your purchase order by email or you can ask us to send you a proforma invoice for 
your order. We need to know the following information for your order.
1)  shipping information-The contact name, Street address, phone number.
2)  Products information-Quantity, Specification and more.
Features:
Heat slowly and evenly, and prevents scorching.
Easy-clean.
Can be used on any sources such as gas, stove, and so on, except microwave.
Care and use of pre-seasoned cast iron cookware
The cast iron cookware we sell is pre-seasoned. It is not necessary to specially prepare before its first use. Properly caring for your cookware will make it last a lifetime.
How to use:
1. Before first use: Rinse (without soap) the cookware in hot water, then dry completely.
2. Apply a light coat of vegetable oil onto the inside surface before cooking.
3. DO NOT place cold cast iron cookware on a hot burner.
How to clean:
1. Let the cookware cool. Placing hot cookware in cold water will damage the iron and may cause craking or warping. Wash with a brush and hot water. DO NOT USE soap or detergents. DO NOT wash cast iron in a dishwater.
2. After cleaning immediately dry with a towel while still warm, reapply another light coat of oil to prevent corrosion.
How to store:
It is important to store the cast iron cookware in a cool dry place. If stacking together with other cast iron pieces, it's best to keep them separated by placing a folded paper towel between them

Company  introduction
Ning Bo ShiJi GongKuang Lamps Co,Ltd was found in 2006. In the beginning the company invested two million dollars to establish a modernization fact